Doctor Who Interactive Fiction Text Adventure Games
The first Five Doctor Who's are the Best:
First Doctor Who - William Hartnell from 1963 to 1966. Puritan . Palestine liked Grandfather waving out of the Top of the Darlek. With it top open.
Second Doctor was Patrick Troughton. Before my time.
The Third Doctor is Jon Pertwee.
Fourth Doctor Who is Tom Baker himself. Classically Trained Actor.
Fiveth Doctor Who is Peter Davison. Yellow Hair, and Highly Literate.


Job one of two Deputy Headteacher in School. For Boys and Girls. Or any stupid Office Work never. School Cleaner gets no money. 4 Hours a Day, 5 Days a Week. Minimum Wage gone up. From Temping Agency. Take twice the Money. Teacher's clean when stressed. Put their Money Up??? Banana's!!!! Sweep up, empty bins, vacuum etc... in empty Classrooms. Better than the Electronics Factory - Bad. Assemble. For the Good and Stupid. Or grow Veg. and Work in Shop. Abingdon, Oxfordshire still has the Abbey Gate. 6th Richest Monestry. Benedictine Order. Always Dining or Feasting the Monks. Trade to Oxford, river Bad - Lock - may not have been built then. Also Witney, which made Woolen Blankets.

Some Old English Heritage in Portsmouth Particularly. Talk Much, and as Friend. And work for Little.
New series all "University Lecturer's" Mad type. Teach the cretins. The work load is too much. For few Jobs at the end. And learn little useful, or interesting. Technical Universities are better. Lighter workload, fun computer course, learn something useable - even for the "British Research Group". Imagination.
Galifray accessable by a Transportation Device.
---
Apple iTunes.com - if lost Password change to Yorkshire Building Society, Alliance and Leister, Nationwide, or Halifax. No thiefing Shareholders! And £125 - £200 Gift for changing account. Password tied to Bank Account. Reset. Can't LOGIN 30% of people. Recommended Songs:
"Why because I Want to" and "Honey to the Bee" Music CD by Billy Piper.Was SAVED???? with one wasted incarnation by a Doctor who lasted only one session, out lasted by his assistant Billy Piper. He only has 12 incarnations!!!!
'Trigger' from DelBoy played Chief Cyberman. "Why do only Fools and Horses Work?" by Chaz and Dave. VHS/DVD as chief Cyberman ;-)
"We Built this City on rock and Roll" by Starship. Set in Las Vagas. "Could do with a re-print.", the Star Singer.
"The Renegade Master" by R. McKenzie. 1995.
---
My Favourite Songs - from Apple iTunes.com with PayPal:
Elvis Presley - Gospel Favourites. Joshua Fit the Battle of Jericho ; Heartbeat Hotel ; Suspicious Minds ; Swing Down Sweet Chariot (might know it from Cardiff Arms Park - Rugby). Norman Castle in centre of Cardiff not Swansea (somewhere by the Sea) in 400 Years with Crewe, Sunderland, Bristol, Cambridge, Southampton, Maidstone... and 3 other Towns linked by Coal powered Steam Railway). 2400-2600 ??? Coal Mines in England, Eastern Ukraine (the Donbase), Germany (Silesia only), Eastern United States (Appellation Mountains) and so on... not Wales. Coal for Holiday Steam Railways: Watercress Line, Hampshire ; Yorkshire Railway: Pickering, Market Town (North Yorkshire) to Whitby now. Most Market Towns were founded in 1200.
Achy Breaky Heart by Billy Ray Cyrus
American Pie by Don McLean - a tribute to the short life of Buddy Holly - 'Can Music Save your Mortal Soul?'
Another One Bites the Dust, Bohemian Rhapsody, Radio Ga Ga and Under Pressure by Queen
Back for Good and Rule the World by Take That
Blowing in the Wind and The Times they are a changing and from the Best of Bob Dylan
California Dreamin' by the Seekers
Changes and Heros by David Bowie
Dancing Queen, The Winner Takes It All and Take a Chance on Me by ABBA
Englishman in New York by Sting
Going Local down in Acapulco by Phil Collins
Good Bye Yellow Brick Road and Rocket Man by Elton John. And Don't let the Sun Go down On Me.
Happy Talk by Captain Sensible
Hero by Enrique Iglesias
I come from a Land Downunder by Men at Work
Israelite by Desmond Dekker
I've got you Babe by Sonny and Cher
Joshua Fit The Battle and Swing Down Sweet Chariot by Elvis Presley from Gospel Favourites
Keep On Lovin' You by REO Speedwagon
Keep On Lovin' You by REO Speedwagon
Stan by Eminem
Summer of '69 and (Everything I DO) I Do it for You by Brian Adams
The Final Countdown by Europe
The Power of Love by Huey Lewis and the News
There's no Limit by 2 Unlimited - Techno
Together In Electric Dreams by Phil Oakley
The Downeaster "Alexa" and Uptown Girl by Billy Joel
Money. Money. Money. by ABBA
War of the Worlds with David Essex (the Artilleryman), Richard Burton (the Journalist) and the bloke from Thin Lizzy (as the Parson - 'the Boys are back in Town'). 'Bows and Arrows against the Lightning'. H.G. Wells was a committed socialist and prophet a Science predicting 'Total War': Air and Tank Warfare and the Atomic Bomb. He wrote 'The Time Machine' and the 'Invisible Man' and predicted a Moon landing in one of his books.
We Are and Cuz I Can by Ana Johnson from Spiderman 2
Video Killed the Radio Star by the Buggles - a rather old and obscure one. Music Videos took over from the Transistor Radio.
Waiting for a Star to Fall by Cabin Crew
Walk like an Egyptian and Guilty in the First Degree by The Bangles
We Built this City on Rock and Roll by Starship. Set in Las Vegas. "could do with a re-print", by Star Singer.
When you go will you send back a Letter from America? by the Proclaimers
79 Cents each, with Video. Downloads on to your Harddisk Drive. Also from amazon.co.uk , or amazon.com with PayPal.
---
Christian Sweden is Running the Pop Music now. Channel 18 on the Digital Box, from Argos Store, the High Street. Plugs into your TV using the Scart Socket.
---
All .z5 (Z-code) games Runnable using WindowsFrotz2002.zip (664Kbytes) - to run WinFrotz click on it and goto File/Open new story...
IF Inform Interpreters for other operating systems/computers. Also try: Z-Machine interpreters and Interpreters.
---
There are only three Doctor Who Interactive Fiction Text adventure games I know of so far:
karn.z5 (87 Kbytes) WinZip File - based on "The Brain of Morbius" by Patrick Wigfull.
Run and Type BACKGROUND...
Summary: "Morbius was once the leader of the High Council of the Timelords. He promised eternal life to his millions of fanatical followers, and came to the planet Karn to seize the Elixir of Life from the Sisterhood... Morbius was seemingly destroyed in a dispersal chamber but his brain had been kept alive and was put in another body..."

7doctors.z5 (70Kbytes) WinZip File - six of your previous incarnations have been imprisoned on different worlds, you must rescue them in your Tardis. Battle Daleks, Cybermen and many other foes. This version is a bit buggy but still quite interesting.
By David Burke. E-mail: david.burke@btinternet.com
Type 'HELP' for list of commands.
Plus: spacestation.z5 Version 2.4 Run Code (79Kbytes) WinZip File - 22nd August 2010, fixes find key problem - based in Infocom Steve Meretsky's Third Galactic Union Science Fiction Planetfall / Stationfall Universe. You land on a deserted Spacestation, have to free a friendly sidekick Fussbudget, and flee in your Spacescooter when you mission is complete.
By David Ledgard. E-mail: Author/Webmaster

---
By Terry Nation a Doctor Who Sceenwriter. He has had a remarkable lot of ideas. Perhaps he is Empowered, like some other Authors and Script Writers.
Below, in the Kaled Bunker: Davros - Chief Scientist, In Black: Nyder - Chief of Security in the Military Elite, In White: Members of the Scientific Elite, and of course a Mark 3 Travel Machine a.k.a. a Dalek (an anagram). I got a cheap copy of this Video off eBay.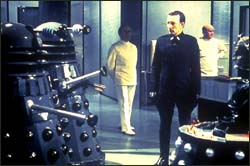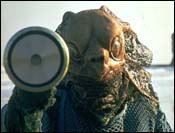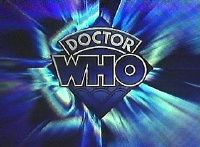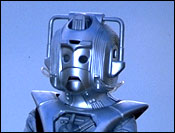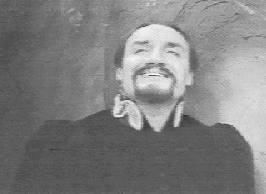 ---
Some extracts from my favourite Doctor Who series Genesis of the Daleks. Staring Tom Baker, (who actually used to be a Monk) as Doctor number four.

Sevrin: 'Why must we always destroy beauty? Why kill another creature because it is not in our image?'

Davros: 'Today, the Kaled race is ended, consumed in a fire of war. But, from its ashes will rise a new race. The supreme creature. The ultimate conqueror of the universe. The Dalek!'

The Doctor: 'Davros, if you had created a virus in your laboratory. Something contagious and infectious that killed on contact. A virus that would destroy all other forms of life... would you allow its use?'
Davros: 'It is an interesting conjecture.'
The Doctor: 'Would you do it?'
Davros: 'The only living thing...the microscopic organism... reigning supreme... A fascinating idea.'
The Doctor: 'But would you do it?'
Davros: 'Yes. Yes. To hold in my hand, a capsule that contained such power. To know that life and death on such a scale was my choice. To know that the tiny pressure on my thumb, enough to break the glass, would end everything. Yes. I would do it. That power would set me up above the gods. And through the Daleks I shall have that power!'

The Doctor: If someone who knew the future, pointed out a child to you and told you that child would grow up totally evil, to be a ruthless dictator who would destroy millions of lives... could you then kill that child?'
Sarah ne Smith: 'We're talking about the Daleks. The most evil creatures ever invented. You must destroy them. You must complete your mission for the Time Lords!'
The Doctor: 'Do I have the right? Simply touch one wire against the other and that's it. The Daleks cease to exist. Hundreds of millions of people, thousands of generations can live without fear... in peace, and never even know the word "Dalek".'
Sarah ne Smith: 'Then why wait? If it was a disease or some sort of bacteria you were destroying, you wouldn't hesitate.'
The Doctor: 'But if I kill. Wipe out a whole intelligent life form, then I become like them. I'd be no better than the Daleks.'
The Doctor: 'I know that although the Daleks will create havoc and destruction for millions of years. I know also, that out of their evil, must come something good.'
free web counter